Why Online Quran Studies in 2023
The Covid-19 lockdown has brought drastic changes to all walks of life, and the education sector is no exception. The only way to save time and keep students occupied with intellectual activities is to turn to online tutoring. At first, this teaching method seemed strange to people, but once they understood its benefits, they liked it and accepted this new change.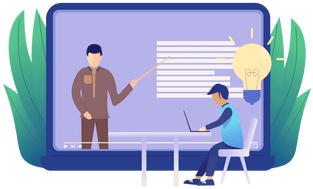 May Allah help us if the world is again infected by such an epidemic. But, indeed, online education has saved people a lot of time and now they are more inclined to it compared to on-site education. Initially, teachers and students found it difficult to adopt this method of teaching and learning, but later it became more productive and less time-consuming.
Today, online studies are more efficient for several reasons. Let's shed some light on online education, its benefits and importance.
Why online courses

Covid-19 posed a huge challenge to educational institutions when there was a complete shutdown. The teachers were then invited to give lessons online. This way, teachers can complete part of the curriculum and after educational institutions reopen, they can start where they left off in online classes.
Thus, the flow of studies can be maintained and the tests carried out on time. Students also stay busy with academic activities during lockdown and continue to learn new things.
Now let's see more benefits of teaching online classes.
Benefits of online learning
Many indicators reveal that the Corona pandemic will change many aspects of life, and education tops the list. However, the transition from physical classes to online learning was quick and sudden. But when done correctly, it brings a lot of benefits.
Here is an overview.
Flexible hours
Conducting classes online allows teachers and students to chat with each other and choose the most suitable schedule. It allows students to learn time management skills and they can easily maintain a balance between work and study.
Affordable studies
Online studies also save you a lot of money. You will not have to organize expensive transportation and waste time getting to the educational institution. In addition, education expenses are also significantly reduced. Therefore, online studies have proven that it is affordable and convenient. He reduced housing and transportation expenses so that more people could get an education through online conversion.
Survey summarizes the report. "The most important factor for students choosing a school for their online program remains tuition and fees set by 34% of respondents. This has been the top choice for the past four years, according to research. "
Accessible online courses
A good internet connection is a great player in delivering online courses. You have scheduled your classes, you can now give your lecture from anywhere in the world. Teachers and students do not need to travel to a specific location or follow a strictly defined schedule. The virtual classroom is accessible to everyone and anywhere (with a good Internet connection).
You learn many skills
Studying online develops interpersonal skills, such as self-motivation, self-discipline, and communication. All online learners quickly hone these skills that will help them grow successfully in their future workplace.
A personalized learning experience
Flexibility is the hallmark of online education. Online courses take less time than traditional courses and bring teachers and students together on one platform for increased interaction and more feedback. In my opinion, there is more learning and skill development through various mediums such as photos, videos, and e-books.
It also allows teachers to improve the quality of their lessons by using additional tools such as discussions or forums.
Therefore, there is no reason to deny the importance of online learning. Over 90% of students consider online classes more than a traditional classroom experience.
The Rise of Online Quran Studies
Learning the Quran is an integral part of every Muslim's life. Muslim communities living in Arab countries and Muslim countries easily find the best Quran teacher for their children. But it is a challenge for Western Muslims.
The Covid-19 shutdown has been a catalyst for turning to online Quran academies, portals and websites. Today, exploring this excellent online Quran teacher only takes a few clicks.
Online Quran lessons in the United States added to the excitement and gratitude of American Muslims who were concerned about learning the Quran and spiritually training their children.
Quran e Hakeem Academy is one of the world's leading online Quran studies platforms serving the American public for years. Currently, thousands of American students are quenching their thirst to learn the Quran from the comfort of their homes.
So don't wait any longer and let us know how we can help you.
We hope to welcome you to our Online Quran learning portal as soon as possible!
Start Learning Quran Today!
So what are you waiting for? Let's get started with your Quran Learning journey. Give a try to our trial class by booking a one-on-one meeting at the time of your convenience with our expert tutors.